Today I took a little break from my big project, the 9-patch quilt, and made a quick little project as a birthday/graduation gift for my sister. I'm pretty excited about it, because I just sorta winged it. It is a quilted case for her kindle. The kindle measures 7.5" x 4.8" or so. I used a scrap of batting left over from my
baby quilt
from before, as well as a grey-on-grey print I bought for curtains and a red that I have been using here and there (bought from a lady who was selling out her home sewing business).
I'll try and explain what I did. That way, even if no one else ever uses it, I can come back and make another (I also have a kindle)!
I started off by making a quilt sandwich of the batting and each colour of fabric. I used rectangles measuring approximately 9" x 17". I lined them up evenly, and basted it with safety pins. I would have liked to stipple it, but I don't have a free motion quilting foot, so I used the walking foot to quilt it. I simply did vertical lines using the foot width as a guide, and mine is a bit more than 1/4".
Edited to add: this is too wide. I think that if you just measured the width of the kindle, add 1" and you'll be good.
Once I finished the quilting, I made 1" binding and sewed that along the two narrow ends. Then I folded the whole thing in half, right sides together, the long way. I used a small zig-zag stitch and sewed up the sides, sewing the corners a bit. I trimmed off all the excess that I safely could.
Once I flipped it inside out I added a cute button and a loop (to the back, inside) in the same colour as the binding to hold it shut. Nothing too fancy! I am sure there is a better way to do this, but I'm quite pleased with it.
I'd intended to do a fold-over flap at the top, but I
forgot to make it long enough, and decided this
would work just fine!
I washed it once I was finished because I left enough room to shrink and still fit the kindle. I may take a picture with a kindle in it to get the idea of whether it is a good size. The final size is pretty much 8" x 6". Now that it's finished I see that I needed to take more pictures along the way. If I make another I will!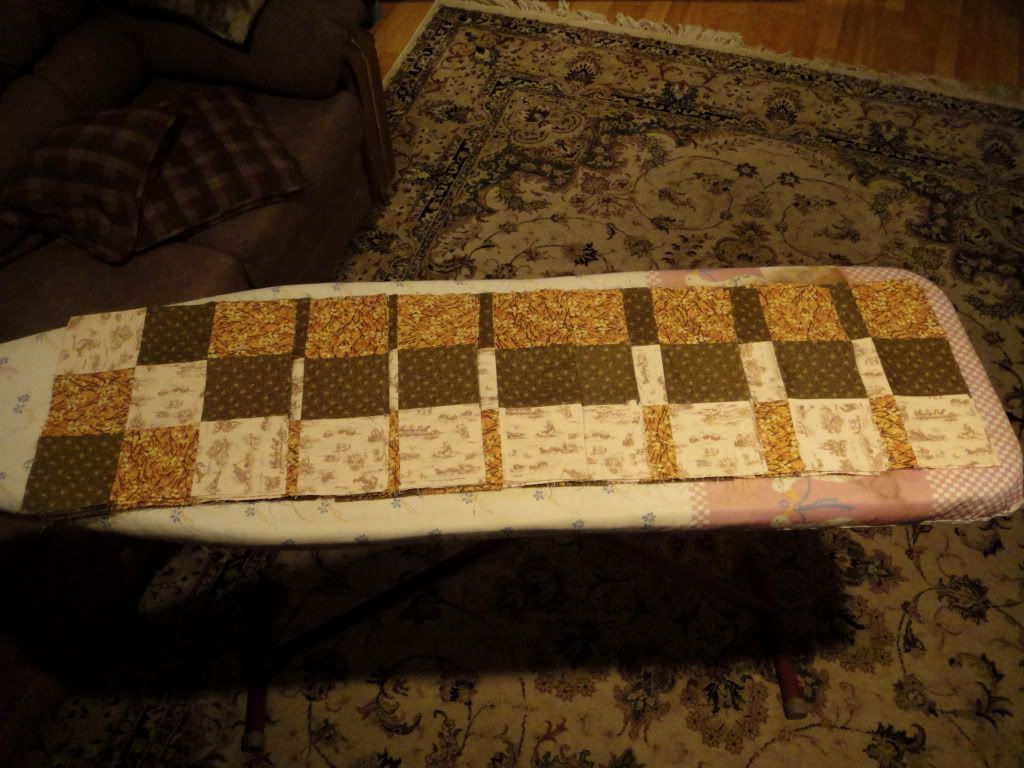 After I finished the kindle case, I finished pressing my 9-patch squares. There they are, all 48 of them, and tomorrow I will start sewing my rows together. We'll see how far I get!